ViralGuardRx COVID-19 Pharmacy Shield – Coronavirus Protection
Take an extra step to protect the health of your employees and customers.
Would you like to learn more about ViralGuardRx?
Retail POS COVID-19 / Coronavirus Protection Shield for Essential Services
Are you an essential service that wants to take extra measures to protect the health of your employees and customers during the coronavirus outbreak? The ViralGuardRx™ is a great option to create a physical barrier at point-of-sale counters.
By placing this protective shield at walk-up spaces, cash registers, and other high traffic areas, it will help reduce the risk of viral and bacterial transmission, including COVID-19. If you're a pharmacy, healthcare facility, bank or retail store front, consider adding the ViralGuardRx to your business environment. Your employees and customers will appreciate the extra layer of protection.
ViralGuardRx is easy to self-install. The replaceable HEPA (high-efficiency particulate air) filter facilitates audibility while aiding in the prevention of disease transmission. The copper-lined transfer port tips 90 degrees for package delivery from employee side to customer side while blocking free airflow.
Safety Tip: Help customers maintain proper social distancing between individuals by placing floor markers at 6′ intervals within your queuing areas.
"We purchased two for our check out area. Very good product."
"The RxSafe ViralGuardRx was the first product I saw offered by a trusted name in the industry that provided that added level of physical protection in the pharmacy. As a multi-store owner it was important for me to purchase a product that was simple to install and expandable across various surfaces and front-end formats. The clear acrylic partition allows my team to monitor the waiting areas and interact with patients with ease and the oversized reception box functions well to pass items between both spaces in a secure manner. I believe social distancing will be here for at least the foreseeable future and theRxSafe ViralGuardRx is one of the protective components in our pharmacy that has helped us get back to work serving our community in a safe and effective manner."
"What I like about the ViralGuardRx is that it keeps my patients safe and also my employees safe, so they can work together to maintain a safe distance. The copper lining on the inside is very important to actually help prevent viruses from spreading. And, in this day and age, with COVID-19, it's very important to protect our staff and our patients at the same time."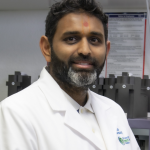 Owner - Heritage Pharmacy
Unbeatable Features & Specs
All-in-one design with replaceable HIPPA-compliant talking port that facilitates audibility
Free standing, easy set up for all personnel
Simple to use
Clear plastic partition with side surround panels & polished edges
Prevents free airflow
Demonstrates to employees and customers your commitment to health & safety
Works in many retail environments
Use in store or for parking lot distribution

Copper-lined transfer port (Copper has been reported to kill the coronavirus in 4 hours per the New England Journal of Medicine, March 18, 2020)

Footprint (30″ wide x 24″ deep x 48″ high)
Package transfer port opening (10″ wide x 10″ high)
Made in USA
| | |
| --- | --- |
| Dimensions | W=30" L=24" H=48" |
| Copper-lined Port Opening |  W=10" H=10" |
| Weight | 40 lbs. |
| | |
| --- | --- |
| Cost Reduction | Easy cleaning & maintenance |
| Delivery Port | Copper lining reported to kill coronavirus. |
| Easy to Use | Simple operation and set up, no training |
| Package Size | Largest in the industry |
| Separation | Prevents free airflow |
"The RxSafe ViralGuardRx was the first product I saw offered by a trusted name in the industry that provided that added level of physical protection in the pharmacy. As a multi-store owner it was important for me to purchase a product that was simple to install and expandable across various surfaces and front-end formats. The clear acrylic partition allows my team to monitor the waiting areas and interact with patients with ease and the oversized reception box functions well to pass items between both spaces in a secure manner. I believe social distancing will be here for at least the foreseeable future and theRxSafe ViralGuardRx is one of the protective components in our pharmacy that has helped us get back to work serving our community in a safe and effective manner."
"We purchased two for our check out area. Very good product."
"What I like about the ViralGuardRx is that it keeps my patients safe and also my employees safe, so they can work together to maintain a safe distance. The copper lining on the inside is very important to actually help prevent viruses from spreading. And, in this day and age, with COVID-19, it's very important to protect our staff and our patients at the same time."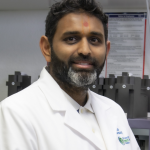 Owner - Heritage Pharmacy