RapidCardRx – Blister Card Filling Automation
Fill more cards in less time with no pill-at-a-time filling.
Would you like to learn more about the RapidCardRx?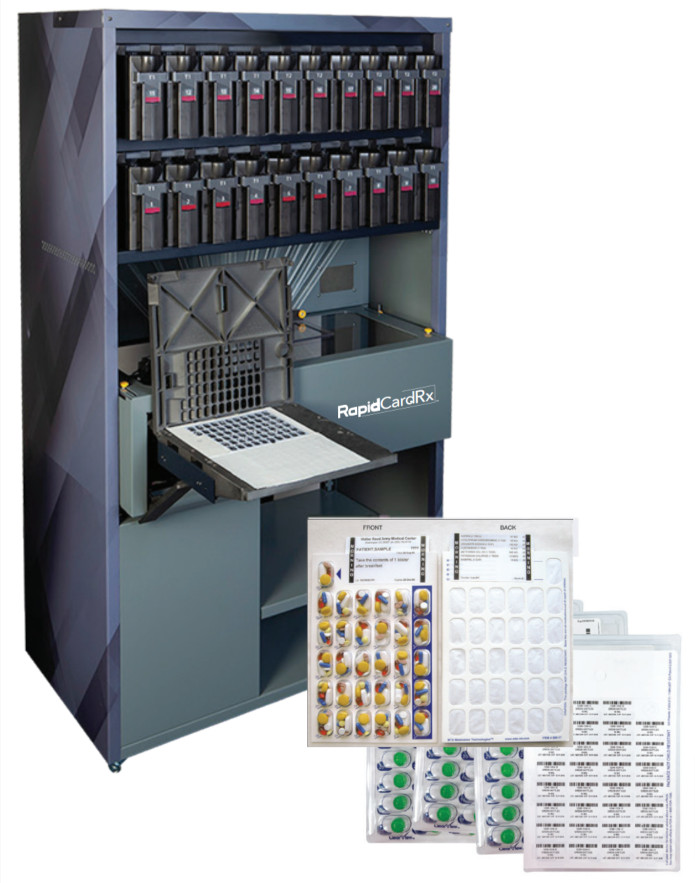 Multi-Med/Single-Med, Pre-Pack Adherence Blister Card Packager with Universal Cartridges for any Pharmacy
Experience the unparalleled, adherence packaging automation technology of the RapidCardRx™ with built-in vision inspection. The RapidCardRx is configurable to fill any blister card format, multi-med /single-med using up to 20, 30 or 40 "smart" universal cartridges that dispense all oral solid medications such as clear gel caps, half tabs, new generics, etc. — without calibration. Med cycles are completely configurable at the lowest possible cost. No "pill-at-a-time" loading. Plus, no more errors from hand filling trays or cards.
Our unique, 3-step, integrated machine vision verification system enables one-pass workflow, unmatched accuracy, and significantly lower operating cost. No need to stock expensive inventory in your automation system. There's less inventory cost, less expiration waste, and rarely refill during a run. Cleaning is far less time consuming. More things get done in less time, greatly enhancing pharmacy efficiency. No more "open" cassettes.
RapidCardRx has the lowest daily operating costs in the industry. Use any blister card configuration from any source.
*Dispill®, Qube™, and all product names, trademarks and registered trademarks are property of their respective owners.
Single-med Cards per Minute
Unbeatable Features & Specs
Unique 3-step, integrated machine vision verification system—one-pass workflow, no secondary machine
All-in-one design with row-at-a-time or blister-at-a-time filling to maximize throughput
Most advanced features industrywide, made in the USA
Unmatched speed, flexibility, and accuracy
Run 20, 30 or 40 "smart" universal cartridges simultaneously—dispense all oral solid medications (including clear
gel caps, half tabs, new generics, etc.)
No more hand filling trays or cards pill-at-a-time
Up to 5 single-med cards/min. (pre-pack mode)
Up to 45 multi-med cards/hour
Works with all popular blister cards with up to 62 single-med cavities per card
Runs least expensive consumables
Far less technician & pharmacist labor
No finished card rework
Smallest footprint—33"W x 18"D x 60"H (20 cartridges) or 84"H (30 or 40 cartridges)
Less on-hand inventory required
Intelligent software interfaces with all popular host PMS systems, or operates autonomously
Packager Dimensions & Weight (U.S.)
W=33" L=18" H=60" (20 cartridges), 84" (30/40 cartridges) | 450 lbs. (40 cartridges)
Packager Dimensions & Weight (metric)
W=84 cm L=46 cm H=152 cm (20 cartridges), 213 cm (30/40) | 204 kg (40 cartridges)
Packager Equipment
Built-in controller, power supplies, 20, 30 or 40 "smart" universal cartridges (for any size
& type pill) with 20, 30 or 40 built-in vision inspection systems, consumables sensors
Internal Cleanliness
Easiest cleaning in the industry
| | |
| --- | --- |
| Packager | Dedicated 110v/20 AMP outlet |
| Inspection Station | Standard 110v |
| Optical Counter | Standard 110v |
Workstation (PC, 22" monitor, biometric
fingerprint reader, keyboard, mouse,
scanners)
One Cat5 connected to pharmacy network, SQL Server default port open (1433) &
C:\RxSafe directory exempt from anti-virus scanning (via the lower Ethernet port)
Inspection Station (PC, 22" monitor,
biometric fingerprint reader, keyboard,
mouse)
One Cat5 connected to packager and one on pharmacy network
Optical Counter
RapidCount = One Cat5 connected to packager | Eyecon = One Cat5 connected to
pharmacy network
| | |
| --- | --- |
| Workstation | 22" monitor, Dell PC, fingerprint reader, drug scanner, RFID reader |
| Inspection Station | 4K 42" TV, Dell PC, fingerprint reader |
| Optical Counter | Height 28", Width 11", Depth 17.5" |
| Universal Cartridges | Min 20 cartridges at H: 6.5" W: 3" D: 9.5" |
| | |
| --- | --- |
| Client Workstation | One x64-bit, multicore processors w/ >8GB memory & two 1T SSDs |
| Inspection Station | One x64-bit, multicore processors w/ 8GB memory & 256GB SSD card |
| | |
| --- | --- |
| Operating System | Windows 10 Professional |
| Database | Microsoft SQL Server Express |
| User Application | Proprietary User Software updated by RxSafe personnel |
| Anti-virus Application | Windows Defender |
| Remote SW Support | TeamViewer & Bomgar |
| | |
| --- | --- |
| User Management | Unique User Profiles consisting of username, password & pharmacy role designation |
| Biometric (Fingerprint) | Digital Persona U.are.U 4500 fingerprint reader provided as standard peripheral |
| | |
| --- | --- |
| Machine Operating Temp Range | 45 degrees to 90 degrees Fahrenheit (7 degrees to 32 degrees Celsius) |
| Machine Relative Humidity | 10% to 80% (non-condensation) |